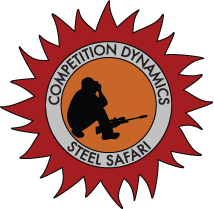 The Steel Safari is the archetypal "hike-and-shoot" long-range rifle match. It tests a wide spectrum of skills involved in getting to a shooting location, identifying targets, and engaging long-range rifle targets with only one shot each. Some of these skills include target recognition, ranging, wind doping, ballistic data management, marksmanship under field conditions, non-standard shooting positions, rudimentary trail skills.
OFFICIAL Targetry Systems - AA Targets

MATCH OVERVIEW


3-day match
25 total stages (nominal) spread over 3 field courses
3 miles of hiking per day (approx) through rough desert terrain
each stage will have 6 target opportunities
only one shot to engage each target opportunity
a time limit of 5 minutes per stage (includes target ID, ranging, and shooting)
movement between stations during each field state will not be timed;
local altitude of 4000'
carry gear used during the courses of fire
target distances 100-1200 yards, most within 250-700 yards.
most targets are approx 1.5 - 2.5 moa at distance
fantastic geographic features for a hike-and-shoot match
Mandatory check-in by Thursday at 1800.
T-shirts will be available for a reasonable price prior to the event
Rifle
: Any 243/6mm up to 300 Winchester Magnum. 3200fps limit.
Shooters can use any ancillary equipment as long as such equipment is carried during every stage. (See
Rules
for details.)
The Steel Safari is one of the best true field/practical long-range rifle matches in the world. It's been going on since 1998 and we've been running it since 2008. The Steel Safari is one of four core matches of the Competition Dynamics season, and we continue to develop new match concepts. The Steel Safari may be the longest running match of its type. The Steel Safari has helped to shape the concept of what field shooting means and helped to forge the strong tradition of practical shooting that runs deep in the Rocky Mountain shooting community.
An average competitor will be able to make hits on targets at random distance out to 1000 yards on his home known-distance (K.D.) range and will have some experience with shooting positions other than prone. He has no problem walking 3-4 miles a day on uneven terrain at 90-105 degrees.
The winning competitor will be able to locate steel targets scattered out in natural terrain with ease, usually without using magnified optics. The data for his rifle will be dead on at every range out to 1200 yards. He will have a lot of expertise determining the most stable and efficient shooting position to use when confronted with an awkward field shooting problem. He will have excellent efficiency of motion.
Gold LEVEL MATCH SPONSORS
Silver LEVEL MATCH SPONSORS
Bronze LEVEL MATCH SPONSORS
Associate LEVEL MATCH SPONSORS