TERMS AND CONDITIONS & POLICIES
TABLE OF CONTENTS
EVENT POLICY
REGISTRATION
NO REFUNDS AFTER "NO REFUNDS" DATE
Match planning, spending, and resource allocation takes place based on how many people have registered. Furthermore, each person who is registered prevents someone else from shooting that slot. When you register and pay you are effectively reserving your shooting slot in the match. Due to the commitments required to attend a major match, the likelihood of someone being able to change plans at the last minute and attend is very close to zero.
Whereas our events are in high demand; that they take significant preparation; and that participants travel long distances to attend and take considerable time off of work to do so, it is extremely difficult and practically impossible to fill "last minute opening" event slots. Registering for one of our events is in effect "reserving" a slot for you. It prevents another person from registering for the event.
As such, THERE ARE NO REFUNDS FOR MATCH ENTRY FEES ONCE PAST THE "NO REFUNDS" DATE. This date is displayed on each match's registration page and also at bottom of the application form. This policy is absolute and there are no exceptions. If a person completes registration by submitting the required information and pays, but that person does not attend the event, the entry fees are forfeit. This is regardless of if we are notified that they cannot make it, or if they simply do not show up. There is no "compensation" in either case. We cannot transfer an entry fee from one match to a different match. An entry may not be transferred to another shooter (or team) without approval of the Match Director, which will not happen if there is a wait list.
To reiterate, THERE ARE ABSOLUTELY NO REFUNDS ON MATCH FEES PAST THE "NO REFUNDS" DATE.
Anyone who contests a charge in a circumstance where they paid for a match entry and then demanded a refund contrary to this policy will be banned from all future COMPETITION DYNAMICS events.
For team events, if a refund is to be issued, a single check will be issued to the primary (first) team member on the regiatration (team members can split the refund amongst themselves as they see fit).
EVENTS
COMPETITION DYNAMICS EVENTS TEST A PERSON'S PHYSICAL AND MENTAL LIMITS AND CARRIES WITH IT THE POTENTIAL FOR DEATH, SERIOUS INJURY, OR PROPERTY LOSS. FIREARM SHOOTING COMPETITION HAS INHERENT DANGERS INCLUDING DEATH, SERIOUS INJURY OR PROPERTY LOSS. Firearms (in general), shooting, handling firearms, shooting competitions, and even being at a shooting range (all collectively referred to as "shooting activities") are hazardous activities. These events involve physical and mental challenges, including risks of exposure to weather including extreme heat, sun, cold, precipitation, and other environmental factors, and dangers inherent in the natural environment. The risks include dehydration, over-exertion, frostbite, exposure, lightning, snake bites, heat stroke, and other physical dangers including serious injury or death. It is your responsibility to acknowledge these and other dangers involved in the activities described and that you assume all responsibility.
It is also your responsibility to comply with all applicable federal, state, local, or other laws involving firearms, shooting events, or other outdoor contests.
Participants agree to follow all applicable event rules, as detailed in the: per-match web pages; match handout given at check-in; or elsewhere, and to follow the instructions of match staff.
Participation in one of our events may be terminated by a ruling from the event staff. This includes match disqualification (DQ). The reasons include but are not limited to: not following the safety rules; not following other rules; disregarding safety procesures; disrupting the event; unsportmanlike conduct; breaking the law; being under the influence of alcohol or other drugs; creating or contributing to an unsafe situation; or other reasons. There will be no refunds if you are disqualified (DQ'd) from an event or if your participation is terminated for any reason.
EVENT CANCELLATION
Our highest priority is to run a safe, enjoyable, and fair event for everyone. Although we have never had to cancel an event, one can imagine situations in which an event would have to be cancelled. In the event that a cancellation occurs due to circumstances within our control (for example, insufficient registrations, staffing), match fees will be refunded or credit given for a future event. In the event that the cancellation occurs because of circumstances outside of our control, for example, forest fires, natural disasters, acts of god, immiment environmental danger, etc, whether or not the event has already started or not, no refunds will be given. This is the nature of running large competitive events in nature. Furthermore, COMPETITION DYNAMICS shall not be held responsible for any costs incurred by competitors, teams, volunteers, spectators, or anyone else involved as a result of event cancellation.
PRIZES MUST BE CLAIMED
Must be present to walk prize table. Must take possession of prizes (including FFL items) within 30 days of event summary or they will be forfeit.
MEDIA/PHOTO POLICY
MODEL RELEASE
The waiver that everyone on-site must sign includes language substantially the same as this:
In consideration of being permitted to participate in this event, I grant full permission to COMPETITION DYNAMICS and its agents, associates, as well as any assignee, to use photographs, video, digital or analog media, electronic media, and any other record of the event, including my name, likeness, voice, together with any subject matter owned by me, for any legitimate purpose, without any compensation. I also release Releasee from any and all claims for damages, libel, slander, invasion of privacy or any other claim based on the use of the above-described material(s). If I cannot be photographed or recorded it is solely my responsibility to prevent it.
If you cannot have your photo taken, the two suggested ways to communicate this to media on-site are: (1) a solid black arm band on each upper arm, or (2) a patch on each shoulder that says "NO PHOTOS" and is readable from at least 10 yards away.
All persons who wish to record any media at CD events must be cleared with the match director and Contingency-X. Please contact us for details.
Failure to comply with this policy will result in ejection from the property.
REFUND POLICY
EVENT POLICY
ABSOLUTELY NO REFUNDS AFTER THE "NO REFUNDS" DATE WHATSOEVER FOR ANY REASON FOR EVENT REGISTRATIONS.
An event registration reserves a spot for you at our event. Due to the events' difficulty and travel involved for most participants, late filling of event slots is practically impossible. Thus, by signing up you are preventing other participants from entering our event. Consequently, there are no refunds on event registrations once past the "no refunds" date.
APPAREL & PROMOTIONAL ITEMS
For apparel and other promotional items ordered from the web site, they may be returned for a full refund (not including shipping charges) privided they are in new and re-saleable condition. A refund may be issued once all the customer's funds from original payment have cleared to our bank (checks additional 10 days), and that refund may be paid by credit card refund, check, or cash as appropriate at our discrestion.
TERMS AND CONDITIONS
These terms and conditions govern your use of this website; by using this website, you accept these terms and conditions in full. If you disagree with these terms and conditions or any part of these terms and conditions, you must not use this website.
License to use website
Unless otherwise stated, COMPETITION DYNAMICS and/or its licensors own the intellectual property rights in the website and material on the website. Subject to the license below, all these intellectual property rights are reserved. You may view, download for caching purposes only, and print pages from the website for your own personal use, subject to the restrictions set out below and elsewhere in these terms and conditions. You must not: republish material from this website (including republication on another website); sell, rent or sub-license material from the website; show any material from the website in public; reproduce, duplicate, copy or otherwise exploit material on this website for a commercial purpose; redistribute material from this website except for content specifically and expressly made available for redistribution.
Acceptable use
You must not use this website in any way that causes, or may cause, damage to the website or impairment of the availability or accessibility of the website; or in any way which is unlawful, illegal, fraudulent or harmful, or in connection with any unlawful, illegal, fraudulent or harmful purpose or activity. You must not use this website to copy, store, host, transmit, send, use, publish or distribute any material which consists of (or is linked to) any spyware, computer virus, Trojan horse, worm, keystroke logger, rootkit or other malicious computer software. You must not conduct any systematic or automated data collection activities (including without limitation scraping, data mining, data extraction and data harvesting) on or in relation to this website without COMPETITION DYNAMICS' express written consent. You must not use this website to transmit or send unsolicited commercial communications. You must not use this website for any purposes related to marketing without COMPETITION DYNAMICS' express written consent.
User content
In these terms and conditions, "your user content" means material (including without limitation text, images, audio material, video material and audio-visual material) that you submit to this website, for whatever purpose. You grant to COMPETITION DYNAMICS a worldwide, irrevocable, non-exclusive, royalty-free license to use, reproduce, adapt, publish, translate and distribute your user content in any existing or future media. You also grant to COMPETITION DYNAMICS the right to sub-license these rights, and the right to bring an action for infringement of these rights. Your user content must not be illegal or unlawful, must not infringe any third party's legal rights, and must not be capable of giving rise to legal action whether against you or COMPETITION DYNAMICS or a third party (in each case under any applicable law). You must not submit any user content to the website that is or has ever been the subject of any threatened or actual legal proceedings or other similar complaint. COMPETITION DYNAMICS reserves the right to edit or remove any material submitted to this website, or stored on COMPETITION DYNAMICS' servers, or hosted or published upon this website. Notwithstanding COMPETITION DYNAMICS' rights under these terms and conditions in relation to user content, COMPETITION DYNAMICS does not undertake to monitor the submission of such content to, or the publication of such content on, this website.
No warranties
This website is provided "as is" without any representations or warranties, express or implied. COMPETITION DYNAMICS makes no representations or warranties in relation to this website or the information and materials provided on this website. Without prejudice to the generality of the foregoing paragraph, COMPETITION DYNAMICS does not warrant that: this website will be constantly available, or available at all; or the information on this website is complete, true, accurate or non-misleading. Nothing on this website constitutes, or is meant to constitute, advice of any kind. If you require advice in relation to any legal, financial or medical matter you should consult an appropriate professional.
Limitations of liability
COMPETITION DYNAMICS will not be liable to you (whether under the law of contact, the law of torts or otherwise) in relation to the contents of, or use of, or otherwise in connection with, this website: for any indirect, special or consequential loss; or for any business losses, loss of revenue, income, profits or anticipated savings, loss of contracts or business relationships, loss of reputation or goodwill, or loss or corruption of information or data. These limitations of liability apply even if COMPETITION DYNAMICS has been expressly advised of the potential loss.
Exceptions
Nothing in this website disclaimer will exclude or limit any warranty implied by law that it would be unlawful to exclude or limit; and nothing in this website disclaimer will exclude or limit COMPETITION DYNAMICS' liability in respect of any: death or personal injury caused by COMPETITION DYNAMICS' negligence; fraud or fraudulent misrepresentation on the part of COMPETITION DYNAMICS; or matter which it would be illegal or unlawful for COMPETITION DYNAMICS to exclude or limit, or to attempt or purport to exclude or limit, its liability.
Reasonableness
By using this website, you agree that the exclusions and limitations of liability set out in this website disclaimer are reasonable. If you do not think they are reasonable, you must not use this website.
Other parties
You accept that, as a limited liability entity, COMPETITION DYNAMICS has an interest in limiting the personal liability of its officers and employees. You agree that you will not bring any claim personally against COMPETITION DYNAMICS' officers or employees in respect of any losses you suffer in connection with the website. Without prejudice to the foregoing paragraph, you agree that the limitations of warranties and liability set out in this website disclaimer will protect COMPETITION DYNAMICS' officers, employees, agents, subsidiaries, successors, assigns and sub-contractors as well as COMPETITION DYNAMICS.
Unenforceable provisions
If any provision of this website disclaimer is, or is found to be, unenforceable under applicable law, that will not affect the enforceability of the other provisions of this website disclaimer.
Indemnity
You hereby indemnify COMPETITION DYNAMICS and undertake to keep COMPETITION DYNAMICS indemnified against any losses, damages, costs, liabilities and expenses (including without limitation legal expenses and any amounts paid by COMPETITION DYNAMICS to a third party in settlement of a claim or dispute on the advice of COMPETITION DYNAMICS' legal advisers) incurred or suffered by COMPETITION DYNAMICS arising out of any breach by you of any provision of these terms and conditions, or arising out of any claim that you have breached any provision of these terms and conditions.
Breaches of these terms and conditions
Without prejudice to COMPETITION DYNAMICS' other rights under these terms and conditions, if you breach these terms and conditions in any way, COMPETITION DYNAMICS may take such action as COMPETITION DYNAMICS deems appropriate to deal with the breach, including suspending your access to the website, prohibiting you from accessing the website, blocking computers using your IP address from accessing the website, contacting your internet service provider to request that they block your access to the website and/or bringing court proceedings against you.
Variation
COMPETITION DYNAMICS may revise these terms and conditions from time-to-time. Revised terms and conditions will apply to the use of this website from the date of the publication of the revised terms and conditions on this website. Please check this page regularly to ensure you are familiar with the current version.
Assignment
COMPETITION DYNAMICS may transfer, sub-contract or otherwise deal with COMPETITION DYNAMICS' rights and/or obligations under these terms and conditions without notifying you or obtaining your consent. You may not transfer, sub-contract or otherwise deal with your rights and/or obligations under these terms and conditions.
Severability
If a provision of these terms and conditions is determined by any court or other competent authority to be unlawful and/or unenforceable, the other provisions will continue in effect. If any unlawful and/or unenforceable provision would be lawful or enforceable if part of it were deleted, that part will be deemed to be deleted, and the rest of the provision will continue in effect.
Credit
This document was created using a Contractology template available at http://www.freenetlaw.com.
SHIPPING POLICY
For apparel and other promotional items that are in-stock, we will ship them within 3 business days of getting the order.
For pre-ordered shirts or other apparel specific to a given event, for example, the 2014 STEEL SAFARI match T-Shirt, that are event specific and are advertised as being available at the event, online purchase will comprise a pre-order and the shirts, etc, will be delivered to the event and disbursed during sign-in. Special arrangements will be made for registrants who pre-ordered a shirt but could not make it to the event for whatever reason.
EXAMPLE WAIVER
This is an example event "RELEASE, WAIVER OF LIABILITY, ASSUMPTION OF RISK, INDEMNITY, AND RELEASE OF CLAIMS FOR FUTURE INJURIES". The specific release for each event must be signed by all participants prior to participating in the event, and it may vary from this example release.
Failure to sign the release is not grounds for a refund. This is notice that the event release must be signed.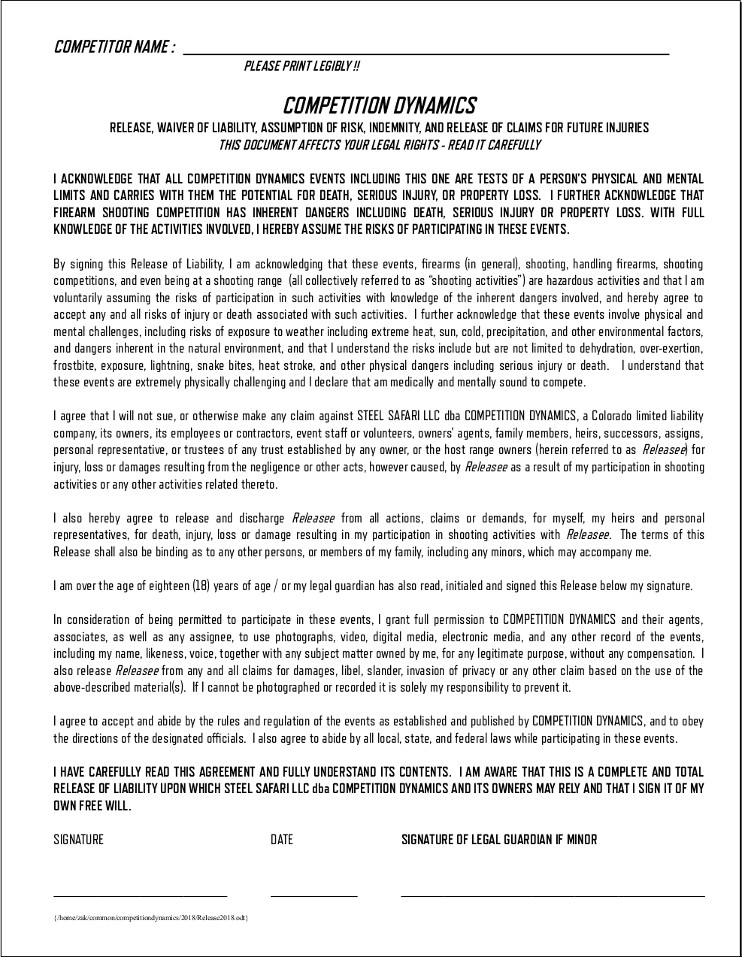 CLICK FOR PDF FILE

CONTACT INFORMATION