NEWS
FINAL SCORES POSTED
STAGE PROCEDURES AND SCORING, with ADDITIONAL INFORMATION POSTED HERE
PHOTOS
.
VIDEO
---
2011 MATCH IS COMPLETED! SOME SHOOTER FEEDBACK:
"Hoser" Freeman - This has got to be one of the funnest and toughest matches I have ever shot. Mike and I finished each field course completely drenched in sweat and heart pounding. Trying to find that wall of how hard to push movement and still being able to settle in to shoot was a great challenge. The night stages were deceptively tough and the assault stages were brutal and fun. The prize table was awesome. Hard to imagine it was all set up well into well after most all companies had done their budgets for the year. Huge thanks to all the companies that supported this match and us shooters. The scoring was perfect. No issues, no drama. I cant wait for next year. Bring it.
Mike Kolar (SRM Match Director) - "I'm really excited about this match -- I want to shoot it again right now!"
FCB on SnipersHide.com - "This was by far the best match I've ever been to and the best test of a rifleman that I've seen."
Quickdraw40 on SnipersHide.com (Team Pro Plate) - "We are lucky in Colorado (Wyoming/Northern New Mexico area) to have venues such as the Blue Steel Ranch. We are also lucky we have persons (Thunderbeast/Competition Dynamics team) who are willing to take the time to organize and run such matches. No square range shooting here folks and you better be in shape. If you have shot Steel Safari, this was like Steel Safari on crack with super cool side matches thrown in for fun. Organized well, no drama, super quick scoring, and an amazing prize table. Thank you to Zak, Ray, Dave, Loraine, Jeff, and all of the ROs. It was a great time!"
MATCH PURPOSE
This match is an extreme test of practical field rifle shooting and its supporting activities. Two-man teams will be required to navigate rugged desert terrain, recognize, locate, range, and engage challenging rifle targets from compromised shooting positions, communicate with their partner and the range officer (RO), and do it under time constraints. This will be a physically-demanding match!
The THUNDER BEAST TEAM CHALLENGE is a non-standard contest that examines practical rifle skills, including target recognition, range estimation, wind doping, trail skills, and marksmanship. The competition is designed to test a 2-man team's skills shooting rifle and carbine to their effective ranges at practical targets in the natural terrain using what gear they can carry.
Match duration: 3 days
9 stages total
3 long (hour+) field stages involving significant movement while engaging carbine and rifle targets
Additional assault-style stages with carbine targets, movement of 100-400 yards
Two night stages for carbine, rifle
Rugged desert terrain with natural hazards
Locate, range, and engage targets under strict time constraints
Significant movement while on the clock
Local altitude of 4000'
Carry gear all used during the courses of fire
Carbine targets: contact distance to 500 yards
Rifle targets: generally 150-800 yards
Unknown, various, and non-standard target sizes
Almost all targetry will be reactive armor steel plate
Round count (minimums): Long-range rifle: approx 110, primary carbine 220, secondary carbine (rifle shooter), 120. These account for average number of rounds required by an average good team to engage all targets. If you may need to shoot extra to make up for misses, bring more ammo.
Cost: $585 per team.
Our match staff has a proven track record of running leading-edge, safe, and fair practical/field matches for over ten years. Zak Smith is the match director, and Jimmy Holdsworth and Ray Sanchez are Assistant Match Directors. The Thunder Beast Training Group instructor cadre is providing assistance with match labor and range-officer duties.
VENUE
The THUNDER BEAST TEAM CHALLENGE will be held at the Blue Steel Ranch [BSR], also known as the site of the Steel Safari match. The BSR is located very near to Logan, NM. It is a private ranch turned shooting range, with some of the best geography for field shooting available anywhere.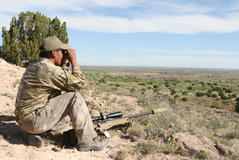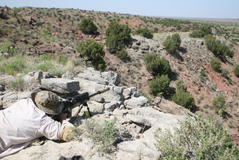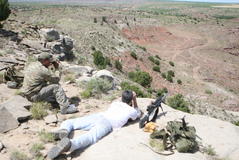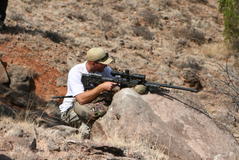 TEAM MEMBER 1 - LONG-RANGE RIFLE SHOOTER
Team member 1 uses a Long-Range Rifle on the long field stages and the night stages, and a "Tactical Division" carbine on the gully assault stages.
TEAM MEMBER 2 - CARBINE SHOOTER
Team member 2 uses a "Tactical Division" carbine on all stages.
See rules for full equipment specifications.
PRINCIPAL MATCH SPONSOR
SILVER LEVEL MATCH SPONSORS
BRONZE LEVEL MATCH SPONSORS
SUSTAINING LEVEL MATCH SPONSORS
ANGUS PRECISION TARGET SYSTEMS
HORNADY
VICTOR COMPANY
Nightforce Optics
ASSOCIATE LEVEL MATCH SPONSORS